Accessories
Salad Plate (8½" diameter) (-1979)
Shown in Heather, Delphine Blue, Amber, Peacock Blue, Gray, and "amberina"

Note: I cannot find any documentation for the amberina color. Since red glass was usually made by reheating yellow glass, this may be a factory mistake. However, I'm not sure Seneca ever intended to make Red plates. The gray plate shown is the first I've ever seen. The thickness of the glass makes the color appear darker than the gray tumblers.
---
Footed Compote/Dessert (1975-1979)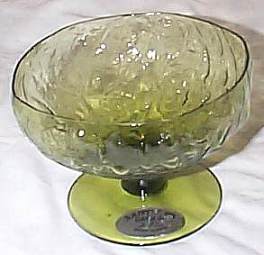 Shown in Moss Green
---
Flowerlite (with frog, 5" Diameter)
Shown in Peacock Blue
---
Bud Vase (1971-1978)
Shown in Crystal and Pale Blue.
---
Crimped Bud Vase
Same shape as the Bud Vase but with a crimped rim
These two vases were made from the same mold with this one having the crimping added.
---
Bulbous Vase (prior to 1967)
Shown in Heather
---
Candy Jar & Cover (1960s & 1978)
Shown in Moss Green. Cover only shown in pale blue. Essentially the footed compote with the lid and a creative marketing effort.
---
Covered Dish (1978)
Same lid as Candy Jar, flat bottom. Seneca was resourceful!
---
Ashtray (Small) (1960s)
Shown in Amber, Cinnamon (Brown), Buttercup (Yellow), and Moss Green.
---
Ashtray (6" Diameter)
Shown in Cinnamon (Brown) and Buttercup (Yellow). I've found no production info for this piece. My guess would be mid to late 1970s as I've seen one in Ritz Blue.